Freesia Lunch November 2019
The Pimiento Rojo
Carrer del Carrilet 9
43840 Salou
Wednesday 6th November, 2019 between 1pm and 5pm
Telephone the Restaurant on: 877 07 23 42 for more information or send an email to Ray Shaw at Ray Shaw at Hotmail to book place your place at the next Freesia lunch.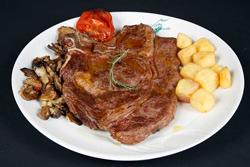 For the month of November only, the Freesia lunch will be on a Wednesday as not to clash with the Dippydora Golf which will be held on the Thursday 7th and Friday 8th of November.
The Pimiento Rojo restaurant is located very close to Salou Town Hall on Carrer del Carrilet just off Calle de Barcelona, so there is easy access and parking nearby. The restaurant has been very helpful and supportive to Freesia and our efforts to raise money for cancer.
The restaurant are preparing a fabulous menu for us with menu choices as follows with bread, bottled water and wine included in the price of 12.50 euros.
Meet up as usual at the Pimiento Rojo restaurant on the 6th of November at about 1:00pm for drinks and a chat before lunch and as always, family, friends and anyone else you know are welcome too.