Who are the Freesia Group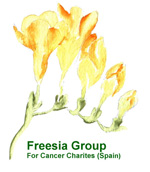 We are Freesia Events and part of the Freesia Group. We run regular events to raise money for our supported Cancer Charities here in Spain.
The Freesia Group is a legally registered, Salou based, non-profit organisation, founded in 2002, raising money for cancer charities here in Spain, and Freesia's group of volunteers have now raised over €380,000 for our supported cancer charities.
All the money collected and donated from the activities and events we organise goes directly to the three cancer charities we support here in Spain and these include: the AECC in Tarragona, CNIO in Madrid and AFANOC in Tarragona.
The Freesia group is run by a local team of VOLUNTEERS, giving their own valuable time and energy for this very worthy cause. Freesia volunteers organise all the events, put up posters, collect the money, control the sellers, man the food and drinks as well as our own Freesia stalls at all the events we organise.
If you would like to get involved or have an idea for a future event then please let us know.
Freesia Group would like to inform you all that even though 2020 was a difficult year for all those around Salou, we were still able to raise more than 6,135 euros for our supported charities. A big thank you to everyone who helped and supported our cause during 2020 and stay safe.
THE NEXT FREESIA EVENT(S):
There are no Freesia Events currently planned
Please select the event above in which you
would like to participate.