CAR BOOT SALE for Charity
When: Sunday 15th November, 2015 between 10:00h to 13:30h
Location: Car Park in front of Salou Town Hall.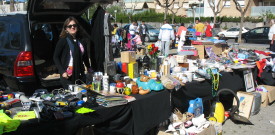 The car boot sale was launched in 2013 and has been on the same site since and is now 4 times the size due to the overwhelming demand for more trading space. It is a fantastic Sunday morning out for families and we have visitors not only from Salou but from Tarragona, Reus and further!
BOOK YOUR PITCH NOW for only 10 euros (4m x 3m) which is enough space for a normal car and a 2m table. You can bring your own table but NO SHEETS OR BLANKETS ALLOWED ON THE FLOOR. Unfortunately for safety reasons we can not allow trailers and larger transit type vans.
Spaces are limited and strictly controlled, so pre-book your pitch today or be disappointed!
All the monies raised goes directly to the Freesia Group to support our charities.