Freesia Secondhand Carboot Sale April 2023
When: Sunday 16th April, 2023 between 08:00am and 2:00pm
Entry for stall holders between 08:00am and 09:00am to setup
Location: Car Park in front of Salou Town Hall.
No professional traders or sellers. This is a small second hand carboot sale only. All sellers must use main entrance on Calle de Pere Gales. No entry before 8:00 am. Please be aware that the local Salou police patrol the streets around the entrance, so you are wasting your time if you come before 08:00am.
Convert your unwanted household goods that you have collected over the pandemic into some real money to help towards the cost of living crisis. The cost of each space is still only 10 Euros per single sales pitch. Food and drinks are always available at the market with toilet facilities positioned nearby.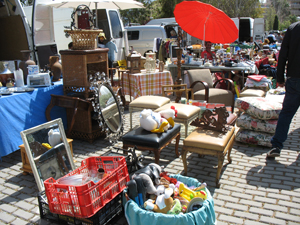 Location
The Freesia carboot sale April 2023 is still situated on Calle de Pere Gales, Salou. It is increasing in popularity each time as more and more local people are wanting to clear out their old items and unwanted household goods.
So RESERVE YOUR SALES PITCH NOW. For only 10 Euros you have a 3 metre wide area (the width of a small van registered as turismo or a 4×4 type car), which is more than enough space to setup and sell your goods from a normal sized car with a typical 2m table in-front. You must bring your own tables to sell from as well as being the lawful owner of what you sell.
Selling spaces are very limited and strictly regulated by the local police. So pre-book in the section below your sales pitch today, or you maybe disappointed!
Also when you arrive the area is clean and tidy so you must take home with you any rubbish and unsold items leaving your vacated area clean. It is your responsibility to tidy up after yourself. There are rubbish recycling containers operated by Salou town hall on the local streets nearby.
As always, all 100% of the money we raise from these car boot sales goes directly to the Freesia Group to support our nominated cancer charities, both locally and nationally. We would love to see you all there!
Promote the Freesia Carboot Sale
Help us spread the word about this Freesia Carboot Sale on the 16th April by promoting it on your Facebook, Twitter or Instagram pages. The more people that know and visit, the more you can sell.
Should you have difficulty with your booking, or have not receive any confirmation e-mail for the carboot sale april 2023 within 24 hours, probably your email provider has blocked it, so please check your Spam or Junk folders. If you can not locate your confirmation of booking email from us then please send us an email to info@freesia-events.com, and please do not make a second booking for the same space! Thank you.
Hope to see you there supporting or fight against cancer.
NOTE: If you have already registered for the cancelled carboot sale of February, then YOU DO NOT NEED TO REGISTER FOR THIS ONE IN APRIL