Freesia Lunch July 2015
Carpe Diem
Carretera de Rasquera, 8,5km
Wednesday 1st July, 2015 between 13:00h – 17:00h
Telephone: 678 477 700 for more information or send an email to Chris Picazo at caclarkeuk@gmail.com to book your lunch.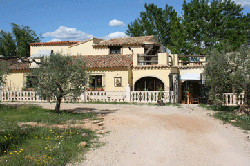 Details of the Freesia lunch at the Carpe Diem restaurant, El Perrelló on Wednesday 1st July where Dick Vos has prepared a lovely menu for us.
Follow the road TV-3022 from El Perelló to Rasquera and turn right after 8km marker. A large white boulder at the side of the road marks the entrance.
As well as a beautiful lunch cooked by Dick Vos, there will also be a raffle to win some fabulous prizes.
Meet as usual at the Carpe Diem restaurant at about 1:00pm. Friends and family are always welcome too.