Freesia Lunch July 2016
El Carpe Diem
Carretera de Rasquera, 8,5km
Wednesday 20th July, 2016 between 1:00pm and 5:00pm
Telephone the restaurant on: 678 477 700 for more information or send an email to Chris Picazo at caclarkeuk@gmail.com to book your lunch in advance.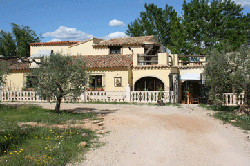 Details of the Freesia lunch at the Carpe Diem restaurant, El Perrelló on Wednesday 20th July where Dick Vos and his team will prepare a lovely traditional menu for us.
Directions are to follow the TV-3022 road from El Perelló to Rasquera and then turn right after the 8km marker. There is a large white painted boulder at the side of the road marking the entrance to the lane. The restaurant is located at the end of the lane.
As well as a lovely Freesia lunch cooked by Dick Vos, there will also be a raffle to win some fabulous prizes.
Meet as usual at the Carpe Diem restaurant at about 1:00pm. Friends and family are always welcome too.