Freesia Monthly Luncheon March 2016
La Cova del Bou Restaurant
Calle Via Roma 2, 43840 Salou.
Thursday 3rd March, 2016 between 13:00h – 17:00h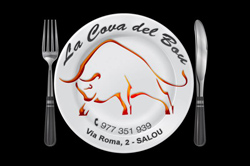 This is a our March 2016 Freesia Lunch as well as the Freesia's annual AGM meeting, so please attend. If you have any questions or concerns you are encouraged to raise them at the AGM.
In our attempts to try different restaurants around the Salou area, once again this is a new venue for us to try, and a fairly new restaurant, but has been highly recommended by our members. The restaurant also has ample space and privacy inside for the annual AGM.
You can telephone the La Cova del Bou Restaurant on 977 351 939 for more information about our monthly lunch or directions, or better still, send an email to Chris Picazo at caclarkeuk@gmail.com to book your place at the La Cova del Bou Restaurant in Salou on Thursday 3rd March.
The restaurant is centrally located in Salou on Via Roma for easy access and parking nearby. The restaurant has prepared a lovely menu for us with wine and coffee included all for only 12.50 euro per person.
As well as the lunch there will also be the usual raffle organised by Tosca and Alastair to win some fabulous prizes and of course a selection of English books to choose from.
Meet as usual at the La Cova del Bou Restaurant at about 1:00pm for drinks and the AGM meeting beforehand. Any friends and family are always welcome too, the more the merrier.