Freesia Carboot Sale November 2023
When: Sunday 19th November, 2023 between 08:00am and 2:00pm
Entry for sellers between 08:00am and 09:00am to setup
Location: Car Park in front of Salou Town Hall.
No professional traders or sellers allowed as this event is a small-scale second-hand car boot sale only. All sellers are requested to use the main entrance on Calle de Pere Gales. Entry before 8:00 am is prohibited. Local Salou police monitor the area around the entrance, so you may be asked to move if you arrive earlier.
The Freesia Carboot Sale November 2023 offers a fantastic opportunity to transform your unused belongings into cash, which can be used to tackle the financial struggles of everyday life. With an expanding number of locals eager to sell their unwanted possessions, this event has been growing in popularity with each passing occurrence. Explore the diverse array of stalls to discover great deals on preloved items such as clothing, electronics, household goods, toys, and much more.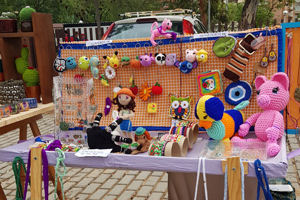 Carboot Location
The Freesia carboot sale November 2023 is located in the main carpark opposite Salou town hall with access along Calle de Pere Gales, Salou. The price of each space or pitch is still an unbelievable 10 Euros. Food, drinks and refreshments are always available at the market with toilet facilities located nearby.
The carboot sale offers a delightful shopping experience giving you the opportunity to discover hidden gems and unique items at bargain prices. Sellers are typically willing to negotiate, allowing you to get the best deal possible. Support local people around the Salou area, while enjoying a vibrant community atmosphere. It's a great way to make new connections and enjoy a day out with friends or family.
Book Your Space
So RESERVE YOUR SALES PITCH NOW. For only 10 Euros payable on the day you have a 3.5 metre wide area (the width of a small van registered as turismo or a 4×4 type car), which is more than enough space to setup and sell your goods from a normal sized vehicle with a typical 2m table in-front. You must bring your own tables to sell from as well as being the lawful and rightful owner of what you sell.
You can read more about Freesia's standard terms and conditions relating to our carboot sales here: Carboot Terms and Conditions.
Given the limited parking space available, bookings are very limited and strictly regulated by the local police. Therefore, it is highly recommended to reserve your sales pitch without delay to avoid potential disappointment.
In addition, when you arrive, you will find that your car boot space is clean and efficiently arranged. It is important for you to remove any trash and unsold items, leaving your designated area in a neat and orderly state. It is your responsibility to ensure proper clean-up. Fortunately, the Salou town hall has conveniently placed recycling bins and containers on nearby local streets for your use.
As always, all 100% of the money we raise from the carboot sale November 2023 goes directly to the Freesia Group to support our nominated cancer charities, both locally and nationally. We would love to see you all there!
Promote the Freesia Carboot Sale
Help us spread the news about the upcoming Freesia Carboot Sale on the 19th November by promoting it on your Facebook, Twitter or Instagram profiles. The greater the number of people who are aware and attend, the better your chances of making successful sales.
Should you have difficulty with your booking, or have not receive any confirmation e-mail within 24 hours, probably your email provider has blocked it, so please check your Spam or Junk folders first. If you can not locate your confirmation of booking email from us then please send us an email to info@freesia-events.com, and please do not make a second booking for the same space! Thank you.
We hope and look forward to you there in supporting our fight against cancer. Wishing you a wonderful day.