5th Charity Gala Featuring Moments
When: Saturday 14th November, 2015 starting at 10:00pm
Location: Teatro Auditori de Salou.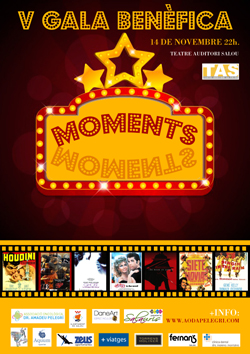 As part of its ongoing annual charity gala nights, the Asociación oncológica de Dr Amadeu Pelegrí have organised a charity gala event at the Teatro Auditori de Salou, (TAS) for the 14th of November.
This is the associations 5th charity gala event featuring the artistic dance group MOMENTS. As well as artistic dance, MOMENTS perform acrobatics, drama, music and much more taking you on a fascinating journey through the history of cinema.
With their stage adaptations of many big films, the artists will relive unforgettable moments from the films that represents their main themes in the film. All the artists, technicians and other professionals, numbering more than 50 people, have been preparing for the show for many weeks now and one in which everyone can participate and enjoy the night.
This amazing show starts at 22:00H and there will be several surprises to celebrate this fifth anniversary of the most anticipated event of the year. Along with the Masterclass "Dancing Cancer" held in the summer this is about raising essential funds to fight cancer and for more research.
Remember this is a charity events and all the money raised will be given entirely to cancer research so get your tickets today.
You can buy your tickets from one of the following locations at the early bird price of only: 10 Euro or pay on the night at the TAS ticket office for: 12 Euro.
Ticket Office Locations:
SALOU:
Carrilet Collection, Via Roma 1
Centre Òptic Salou, Via Augusta 15
Comercial Nacel, Via Roma 28
Joyeria Rovira, c/Valencia 20
Llençeria Tati, Via Roma 14
Peluqueria T3, c/ Francoli 8
VILA-SECA:
Centro capilar Maria Lozano, c/ La Font 56
REUS:
Pili Arenas Estética oncológica (C/ Miami, 51)
TARRAGONA:
Ortopèdia Rambla, Prat de la Riba 34
Madonna Boutique, Plaça Ponent, 2
Hope to see you all at the Teatro Auditori de Salou supporting our fight against cancer.