Valentine's Masquerade Ball 2016
When: Saturday 13th February, 2016 between 9:00pm to Midnight
Location: Calle Espigó del Molls, Club Nautic, above Restaurant dÁlbert, Salou.
Please note that this event has been cancelled
The House of Illusion proudly presents the masquerade valentines ball 2016 on behalf of the Freesia Group on Saturday 13th February at calle Espigó del Molls, at the side of Club Nautic, above the Restaurant dÁlbert, Salou.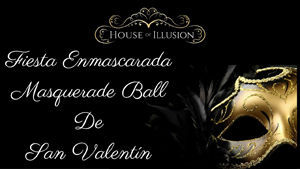 Love is in the air so celebrate the night with the one you love and enjoy a night of romance at the House of Illusion this Valentine's Day and which is guaranteed to be a truly romantic evening to remember.
This will be our first major dance of the year and should be a real success bringing together many of the magicians and artist who perform at the House of Illusion as well as live entertainment and a disco to dance the night away.
The evening will comprise of a champagne reception, a three course dinner, with wine throughout the meal, entertainment, and raffle.
Doors will open at 9:00pm and we hope that as many people as possible will be able to attend and support not only the House of Illusion but the Freesia Group as well.
Tickets cost only 39.95 euro of which the House of Illusion will generously donate 10 euro to the Freesia Group to support our three Cancer Charities.
However tickets are limited and available on a first come, first served basis so don't be disappointed and book your tickets now.
Please note that this event has been cancelled
Tickets are now available to buy on line here at: www.saloubooking.com
So reserve 13 February 2016 in your diary to ensure you don't miss out on one of the most romantic night of the year!
We look forward to seeing you all there and sharing this fabulous evening together.