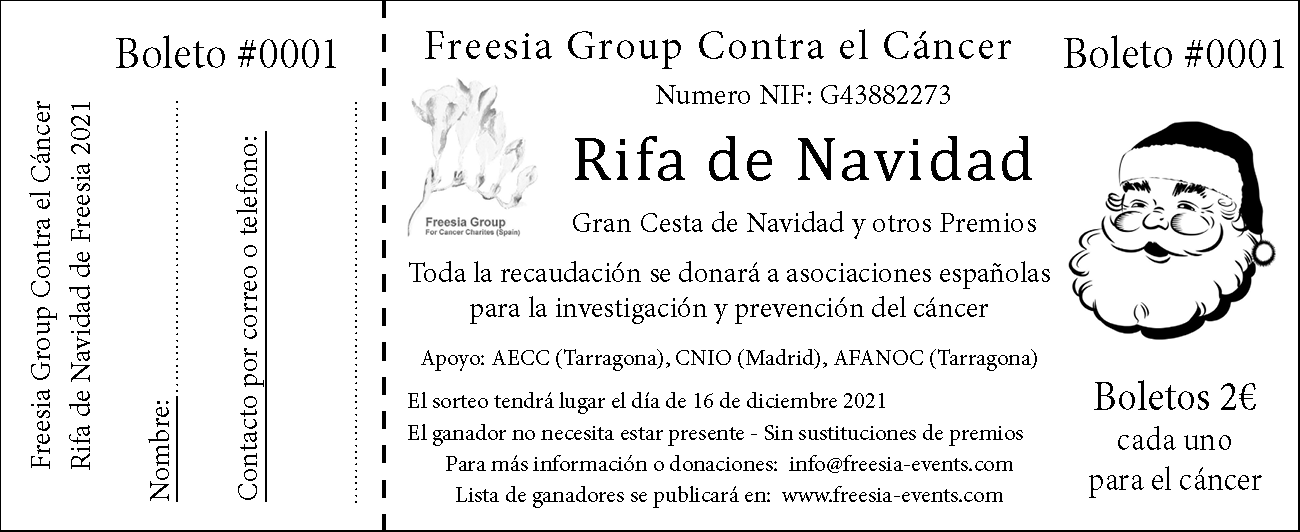 Freesia Christmas Raffle 2021
With Christmas around the corner, there's never been a more exciting time of the year to win one of our incredible raffle prizes.
With a chance to win one of a number of Christmas hampers, or one of over 20 other smaller prizes, now is the time to play our Christmas Raffle for a festive treat.
Each 2 euro raffle ticket you buy gives you a chance to win big this Christmas, while also helping to support our cancer charities here in Spain.
But Hurry! – the closing date is: Thursday 16 December 2021.
Please ensure you buy your tickets from a Freesia member before this date or if you are returning tickets, please return all ticket stubs and money by this date.
Note that any raffle entries which are received after this deadline will be treated as a donation to the Freesia Group.
The draw will take place on: Thursday 16 December 2021
Winners will be notified as soon as possible after the draw by a Freesia member, and a list of winners will be made available below. Alternatively, if you think you are a winner, you can contact us directly via email or using our Contact Form.
Whilst every effort will be made to contact each winner, if we are unable to make contact within 30 days of the draw, excess prizes will be sold to raise money for our supported charities.
Thank you for your support and good luck in the draw!
Freesia Christmas Raffle 2021 Photos
Below is a selection of some of the raffle prizes on offer. Just click on any photo if you would like to see more.
---
Thank you for your support of Freesia, and good luck!
Este artículo también está disponible en: Spanish